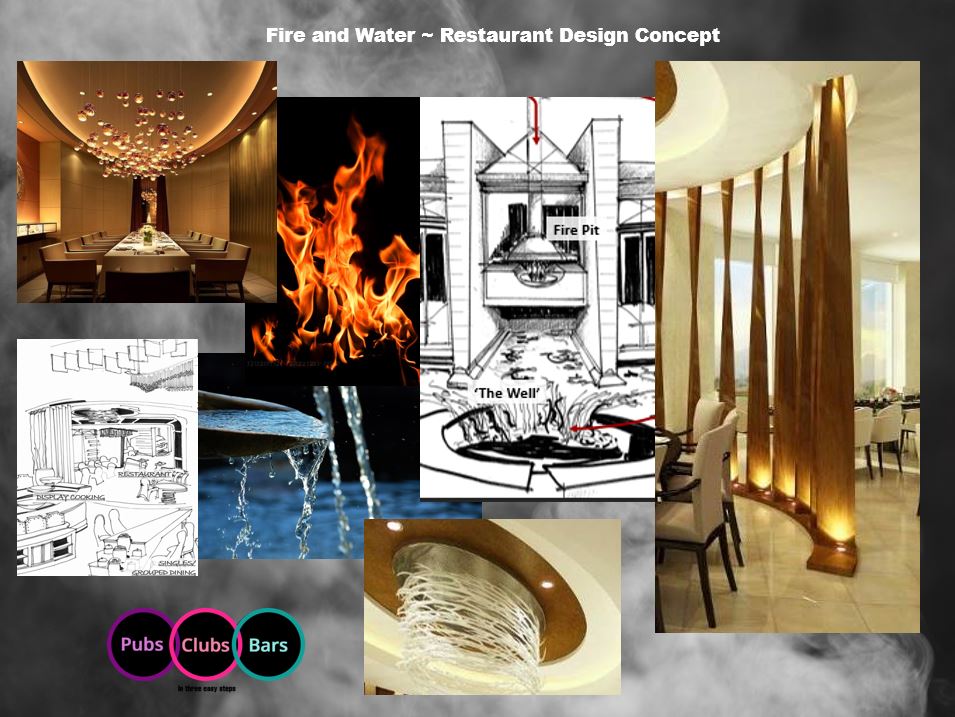 This design concept from Pubs Clubs Bars Worldwide deserves a dedicated venue in an architectural space that will invite, inspire, refresh and relax the diner and ensure he or she will return as a patron again and again. It is perfect for an additional own door dining concept in a hotel; one to attract the local clientele and impress your guests.
Taking inspiration from nature; water sources, trees and timber which invite the customer into the up-market gastronomical experience venue. This venue offers the best products from Ireland, enhanced with those we import.
Water and fire sit side by side in this venue; a water well symbolises the circle of life into which the trickle of nature's water flows. The ceremonial fire of life which is man's creation is inside the building.

Oversized and imposing, the elements are front and centre of this design concept. The Circle of Life is overlooked by diners who sit side by side with a suspended fireplace under which the water trickles – the two compete for attention in this exciting design concept.
Is this the design concept for you? Contact the Pubs Clubs Bars Worldwide for further details. alice@pubsclubsbarsworldwide.com
Pubs Clubs Bars Worldwide – The one stop shop for design concept creation through to fit out and build.
ATTENTION!
Copyright Notice!
These Concept Designs are intellectual property of the Pubs Clubs Bars Worldwide